A Semester in Dig It STL Internship Program This is the first year that Gateway Greening has offered a high school internship program, in addition to our summer teen employment program. Through the internship, local high school students explore environmental issues, the St. Louis food system, and local urban agriculture projects, all while earning school credit.
Here at Gateway Greening, we've been talking about the Dig It STL internship program and sharing pictures for months. Yet many people still find themselves wondering – what do the teens that participate in Dig It STL do exactly? For those who are curious to see what a semester in the Dig It STL internship program looks like, here are the highlights of what these youth have been doing, from October 2016 to April 2017.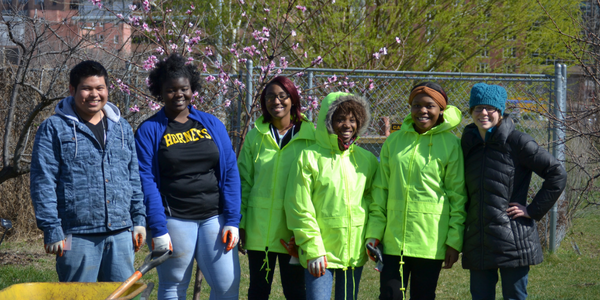 October 6th: Plant Identification & Plant Families Workshop on the Gateway Greening Urban Farm.
October 18th: Healthy Soils 101 Workshop: We built a compost pile and tested our soil's water-holding abilities and aggregation.
November 1st: Interviewed for TV by KMOX on the farm! We aren't sure if the segment has aired yet, but it was pretty fun.
November 10th: Helping Forest Park Forever's Nature Reserve Steward plant spring ephemerals in the forest.
November 22nd: Helping Farm Manager Jackson draft the crop rotation plan for the Gateway Greening Urban Farm's next growing season.
December 8th: Mixing up a batch of Fire Cider to ward off the common cold, and learning about the healing properties of plants from Dani Gallagher of Roaming Soul Apothecary.
January 5th: Watching and discussing 'The Garden', the story of the South Central Farm, the largest community garden in the US (note: this is a great and educational film, but not a happy one! Tears were shed!)
January 12th: St. Louis Food Policy Council's Melissa Vatterott introduced teens to the process of making policy in the City of St. Louis, and how policy affects food access.
January 17th: Dr. Ellen Barnidge and Dr. Stephanie McClure from St. Louis University gave our interns a crash course in hunger and food insecurity in our region.
January 31st: Our first planting- green onions!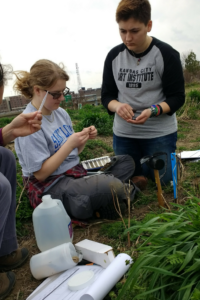 February 3rd: The no-till culminating project begins to take shape.
February 9th: One of the many days that Dig It helped Community Garden Manager Dean build beds, sheds, benches, and more for community gardens. Power tools are awesome.
March 1st: 12 interns from Soldan International Studies High School begin their 8-week internship.
March 9th: Dig It led a phenomenal tour of the farm for a funder.
March 16th: Helping out at Global Farms, a farm project for resettled refugees through the International Institute (we worked with them once a month all year).
April 4th: All no-till beds have had their cover crops killed and are tarped off- now we are just waiting for the frost date to pass so we can plant in them!
Thanks to our many awesome partners in food, farming, and ecology who have been guest speakers or led working field trips for our teens! It has been a fantastic experience.
Written by Carolyn Cosgrove-Payne, Teen Programs Coordinator