Greening the STL Map Room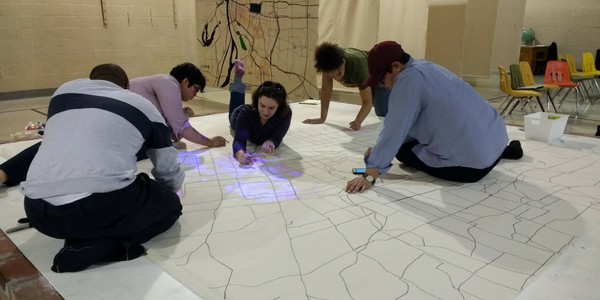 This week the Gateway Greening staff found a new way to highlight school & community gardens throughout St. Louis City – by teaming up with the STL Map Room project!
STL Map Room is a collaborative project between COCA (Center of Creative Arts) and The Office for Creative Research. On March 3, the partnership took over the shuttered Stevens Middle School in St. Louis, MO to create the St. Louis Map Room: a community space for creating and exploring original, interpretive maps of the city that reflect the personal stories and lived experiences of its residents.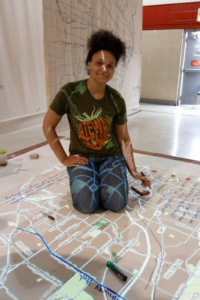 Last Thursday several Gateway Greening staff members spent the morning working with Emily Catedral of the STL Map Room to create a 10'x10' canvas map of St. Louis City which our experience as urban agriculture advocates in the city.
It was a powerful experience as Catedral worked with staff to pull up a range of map data dating back to as early as the late 1800s and covering a range of topics: public transportation, residential and industrial zoning, racial distribution, public income and healthcare census records, and more. By adding a selection of school and community gardens throughout the city and projecting historical map data over top, it didn't take long to observe how the locations of currently existing community gardens often correlated to St. Louis City's zoning and financial policy decisions made as far back as the early 1900s.
After a great deal of debate and discussion, our staff narrowed down the list of possible data points that could be included to focus on current LRA land distribution, existing public green spaces, and a selection of school and community gardens throughout the city. The Gateway Greening map has joined others created by schools, non-profits, and the general public from around St. Louis and will be on display at the Stevens Middle School until April 9, 2017. Afterwards, the maps will be displayed in various locations throughout St. Louis for an undefined amount of time before being added to the City Archives.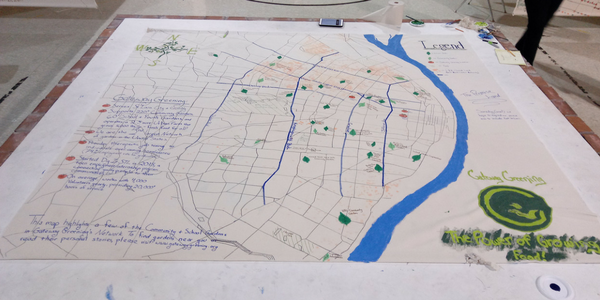 Discover more about this fascinating project by visiting the STL Map Room website, or find out how you can participating by contacting Emily Catedral at [email protected].