School Garden Spotlight – St. Francis of Assisi Mike Herries and his wife, Paula, are the garden leaders at St. Francis of Assisi parish and school.  As the STREAM Coordinator at the school, Mike is passionate about connecting the garden to his curriculum.  He joined St. Francis of Assisi School as a substitute teacher when he returned to St. Louis after Hurricane Katrina destroyed his family's home.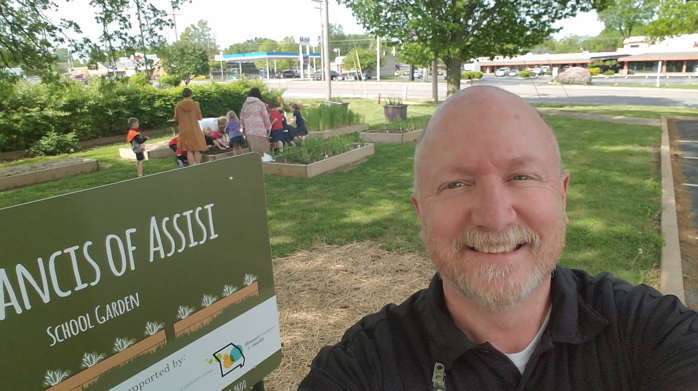 The St. Francis of Assisi garden is particularly busy this spring with Gateway Greening's First Peas to the Table Contest!  Using Gregor Mendel's pea plant studies, Mike's students performed their own crossbreeding experiments with peas they'd grown in the garden. Though Mike doesn't expect a large harvest of peas, (last year, they won the award for "Most Patient" peas!) the contest has attracted more students to participate in the garden. 
Mike found that sending out a monthly email with garden updates has engaged more teachers to get involved.The students enjoy getting outdoors and are often shocked to learn where their food comes from. They're always excited to try new vegetables growing in the garden! 
While Mike works primarily with middle schoolers, he's able to interact with students of all ages in the garden. He and Paula are particularly proud of their pumpkin graveyard lesson in the fall, where the students observed their pumpkin harvest decompose. 
Mike prides himself on the fact that the St. Francis of Assisi garden "is all about learning, not production!".  He is not afraid to lose some vegetables to pests and says that "bugs are a learning opportunity!"  Most of the produce is eaten right off the vine, but when there are leftovers, the harvest is given to members of the parish.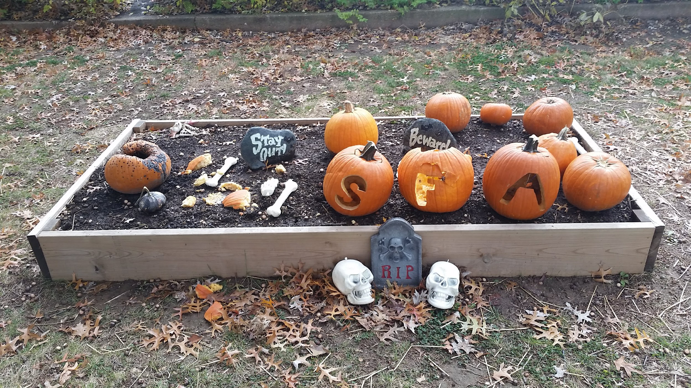 His advice for other school garden leaders: "Collaborate with other teachers to find out what they enjoy doing.  If the garden doesn't feel like a chore, they'll be more eager to participate."
Written by Rachel Wilson, Education VISTA