September Teacher Spotlight: "Let's Get Dirty!" We want to highlight Nina Warren, a kindergarten teacher at Clay Elementary whose class has been a part of our Seed to STEM progam for several years. Ms. Warren is passionate about getting kids in the dirt, and after you read her interview, you will be too.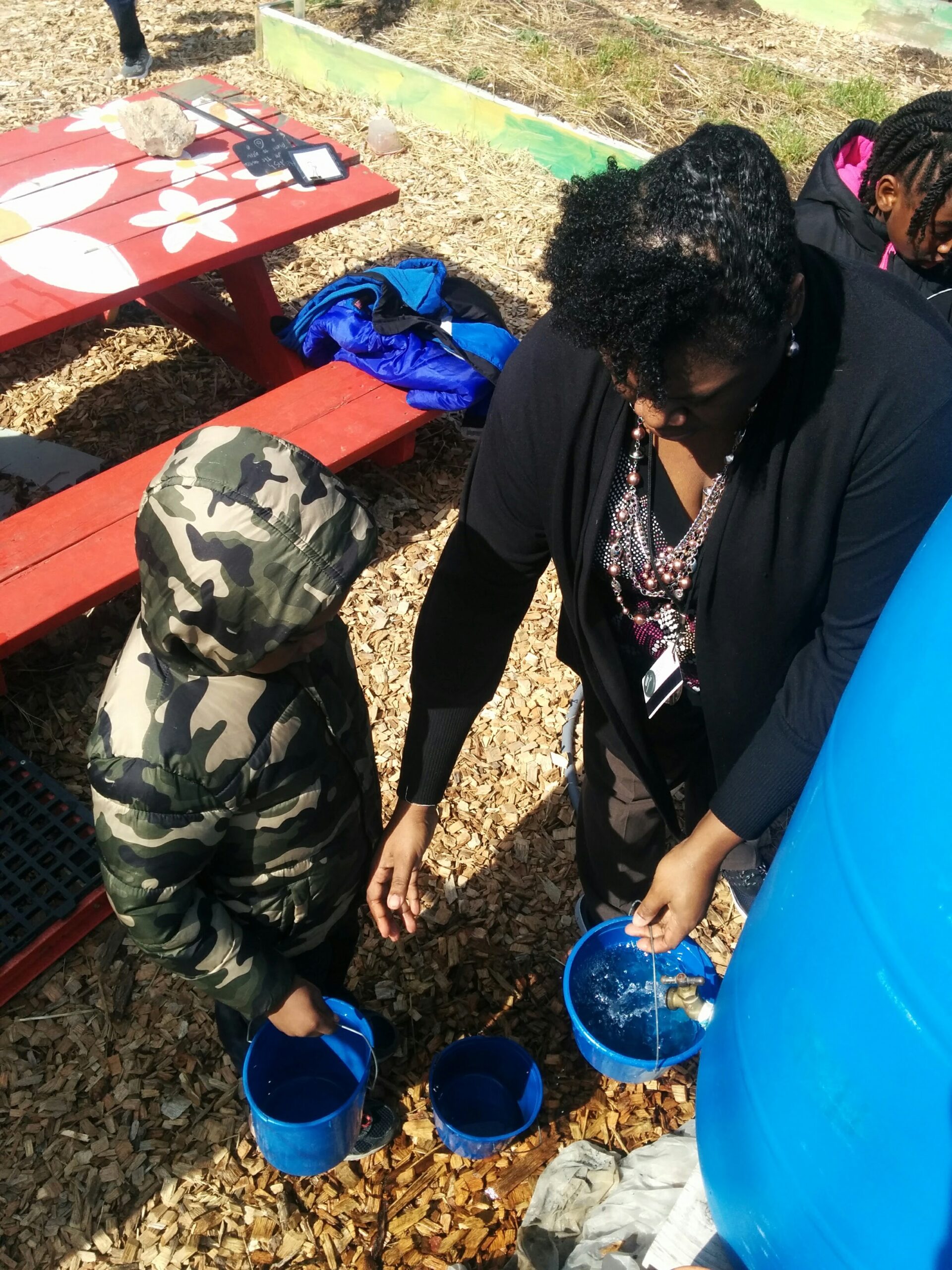 What's your favorite story from taking your class out to the garden?
Nina Warren: "One of my favorite stories is teaching kids about trees. They have life like we do, and they don't like to be poked and prodded just like we don't like to be poked and prodded. They need love and care just like we do.
"One day, we were in the garden sitting in the grass, and the kids were pulling all the grass out and they brought it inside. When we got in, the grass was all shriveled and brown, and they were asking me, "Ms Warren, why is the grass dead??" We talked about how plants are alive, and if we pull them out of where they're growing, the plants die.  That's something kids need to know."
What is the biggest impact of taking your students outside to the garden?
Nina Warren: "Monday! Monday was the biggest impact. They were so excited about the peas that they planted in the ground. They remembered actually putting their fingers in the ground for those peas, and when they pulled [the peas] off, they said, "We planted these, Ms. Warren! We planted these! This is what we did!" and I was like, "I know! I know!"
"Bria doesn't like peas, but the fact we planted them was the only reason why she ate them. These are the things we planted a while back, and now they're grown. If more parents had gardens in their backyards, maybe more of our children would eat fruits and vegetables.
"The peas were one of the best things. I took pictures of it because it was so amazing. It made it all worth it. This is what the garden is all about. "
What do teachers need the most to be successful in the garden?
Nina Warren: "[Teachers are] so busy with all the other stuff we have going on, what will happen is we'll be like, "We'll just skip garden today, there's so much stuff to do and we just don't have time." Because you left [the class some garden curriculum], I could read the plan and know what to expect when the students are out there. Knowing there is a plan in place beforehand so there's not so much prep work for us, we can allow the kids to go out there and have the a lesson and then let them go out and explore nature.
What's your favorite thing to plant or watch grow?
Nina Warren: My favorite thing to watch grow are the snap peas, because lettuce just looks like grass but the peas really do change and grow. We put a lot of work into growing those peas—we put our fingers in the dirt to plant the seeds, we put sticks in the ground for the trellises, we put the yarn around the sticks for the peas to climb, and they grew up them, and then all of a sudden the peas came out of nowhere. Kids look for detail, and the peas had lots of details to observe as they grew.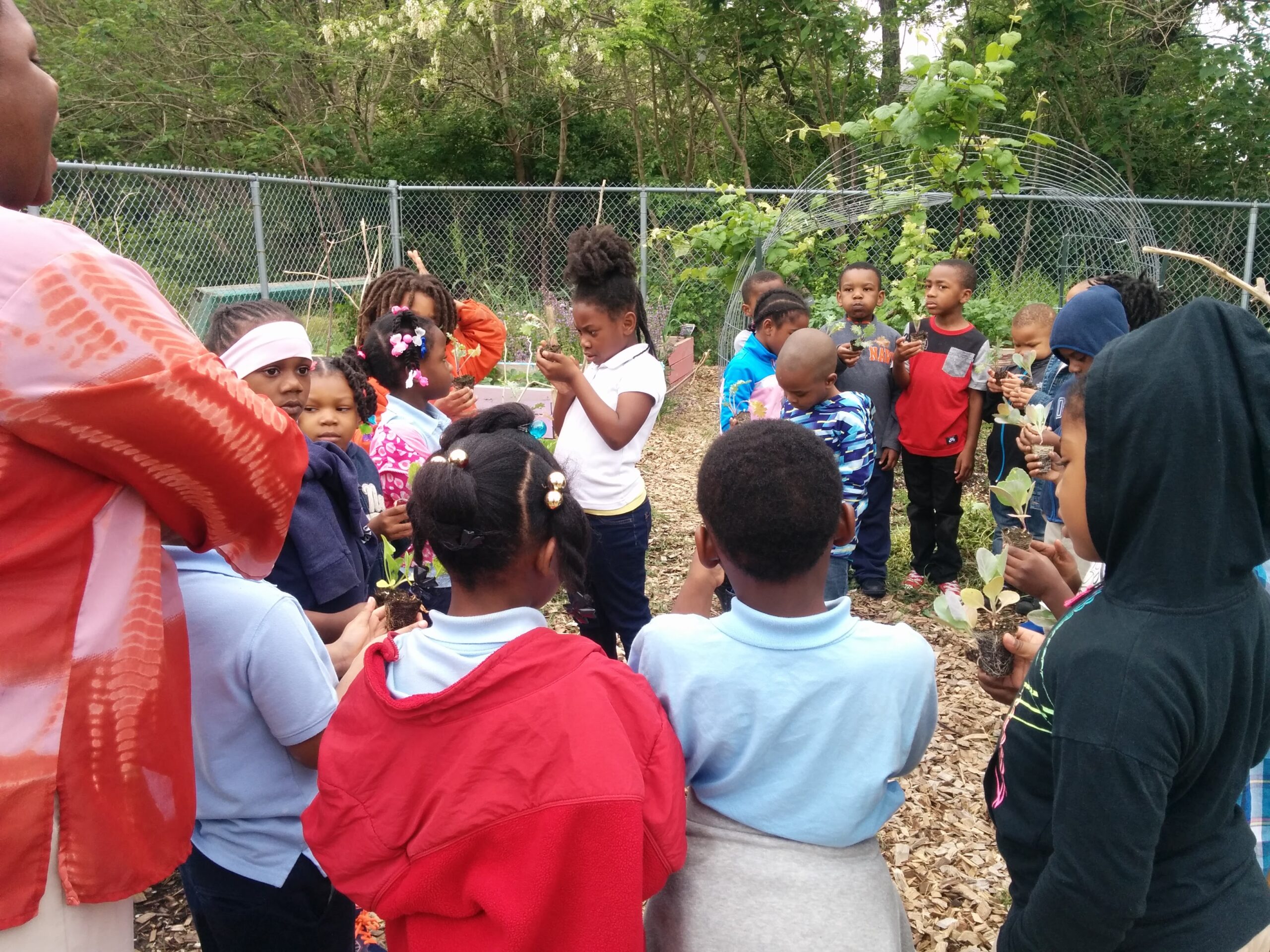 What advice would you give teachers who want to bring their classes outdoors?
Nina Warren: "If kids find things, allow them to explore. Don't let them know if you're afraid. If you're afraid, they'll be afraid. At recess a few weeks ago, one of my students found a huge hairy black spider. She wasn't afraid- she was playing with it, letting it crawl up and down her arms, showing the other kids. I was terrified but I didn't say anything because I didn't want her to be afraid.
"I think women especially tend to say, "Ew, kill that bug, get it off me, I don't want to get dirty and I don't want my kids to come home dirty." Well guess what? Kids are supposed to be dirty! They're children. Otherwise, what's the point? If they're dirty, that means they are touching, feeling, and experiencing the world around them.
"I have parents who send their kids to school in sandals. I tell them, "Sandals aren't made for school. They need shoes they can explore and get dirty in." We're too busy trying to stay clean—let's get dirty!"