Students Planning School Garden Crops In preparation for the fast approaching growing season, 2nd and 3rd graders at Mallinckrodt Academy have been making some important decisions about what they want to grow in their school garden this year.
Gateway Greening has an excellent planting calendar to show a when different varieties of vegetables can be started indoors, transplanted or directly sown into the garden, their grow time and even when students should harvest.
The second graders formed groups, and were offered a selection of pictures of vegetables cut from old seed catalogs. The students needed to work together to come to an agreement as to what crop they would grow. Next came locating the plant on the planting calendar and discovering necessary information for growing the crop they chose by utilizing the key. "The key unlocks it all!" explained one student.
Each group will have a chance to share their findings and tape the picture of their chosen veggie to the month when we need to start planting.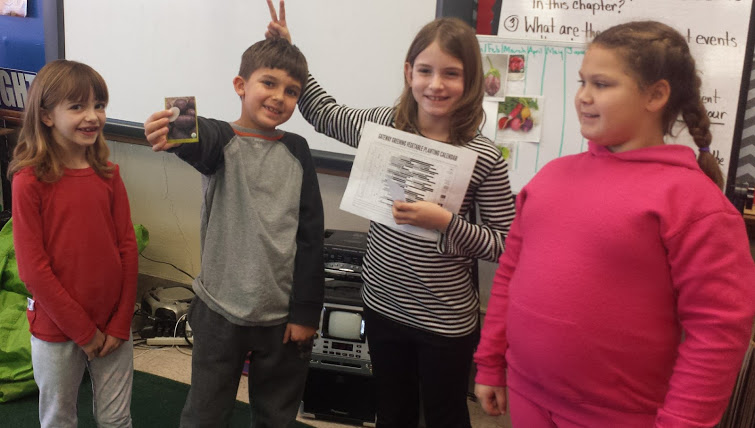 Students at Mallinckrodt Academy using a planting calendar to plan their 2017 crops for the school garden.
The third graders took this a step further, deciding how they would make the most of their available garden space based on the information from the graph. The students applied what they learned about sequential planting to choose three vegetables that will be able to grow in the same space based on the time they are planted and harvested. In this way, the students will be able to grow 3 separate crops in the garden this year.
In addition to being a great way to involve the Mallinckrodt Academy students in the ownership of their garden, this lesson encourages students to learn and practice: interpreting information from graphs, collaborating with group members, public speaking, and decision making. The school garden is a great place to learn and practice these skills which are all transferable to other areas in the classroom and everyday life.
Written by Meg Holmes, Gateway Greening Youth Educator