The Process, Pros, and Cons of No-Till Farming This is the first year that Gateway Greening has offered a high school internship program, in addition to our summer teen employment program. Through the internship, local high school students explore environmental issues, the St. Louis food system, and local urban agriculture projects, all while earning school credit.
Dig It STL Interns ask: "Why are you tilling the Farm beds?"
In October 2016, high school seniors Adam and Anna started their internships with Gateway Greening through the Dig It STL program, spending a large portion of each week throughout the fall and spring semesters of their senior year working on the Gateway Greening Urban Farm. From researching and creating a crop rotation plan for the coming year, to getting outside and performing hands-on tasks, they were an incredible help.
As Adam and Anna learned about soil structure and different soil management practices during their internship, they asked Teen Program Coordinator Carolyn Cosgrove-Payne: "why do we till the vegetable beds on the Gateway Greening Urban Farm?" As an urban agriculture organization, Gateway Greening teaches about no-till practices in our curriculum and discuss the benefits of no-till for microbial activity, soil fertility, and carbon sequestration. 
However, we have never tried using no-till soil management practices on our own urban farm. When challenged with the question, the staff thought about it and realized the main reason we haven't tried no-till is… inertia. Gateway Greening has never directly used no-till and things seemed to be working fine, so it never entered our minds. 
As part of the Dig It school-year program, interns are required to complete a culminating project that demonstrates some of the knowledge they gained during their time with Gateway Greening this spring. Adam and Anna chose to put forth a No-Till Proposal for the Gateway Greening Urban Farm as their culminating project. The rest this article shares Adam and Anna's findings and research, in their own words. 
The Process, Pros, and Cons of No-Till Farming
by Adam Mancuso & Anna Dotson
Traditional farming practices utilize tilling when preparing to plant new seeds in the ground. This is done in several ways, from large machinery to handheld tools, but the goal is the same: to loosen and aerate the soil in order to make it easier to plant and introduce nutrients. However, this process not only interrupts the natural soil building process that is occurring during the growing season, but also is not effective at reaching its goal, on account of smoothing over, crusting, and loss of the soil that occurs after heavy rainfall. This is why some farmers choose to instead use no-till practices on their farms, to maintain and boost the natural processes present, depending in part on what kind of soil is present on their farm. While till farming builds up the soil (using compost, pesticides, fertilizers, etc), tears it down, and builds it up again, no-till farmers instead continuously build up the soil throughout the year.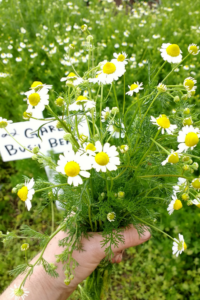 There are a few things that go into a no-till bed or field. The first thing that needs to be done when preparing a no-till bed is to plant cover crops over the winter then use a roller or crimping tool to kill the cover crops once the growing season is 1-2 weeks away. After this is done, tarps should be put over the beds to cover them until planting time. If a roller or crimper is not used, then this process should be started 2-3 weeks in advance rather than 1-2. Once it is time to plant crops, add in about 4 inches of mulch during the initial seeding along with compost around the plants, making sure to pull the mulch away from the stems of young plants as they start sprouting. If there are perennial roots from other plants present in the soil, be sure to remove these from the areas being planted in so they do not come up and disrupt the growing of the plant that is supposed to be growing. Minimal watering through drip irrigation is the best way to water no-till spaces, and an important thing to keep in mind during the entire process is to compact the soil as little as possible. Compacting the soil is counterproductive as one of the goals of no-till farming is to build up the soil structure, however there is preliminary research that shows that soil in no-till systems are better at recovering on its own from compaction than soil in systems that use tillage. Growers also need to be mindful of any small weeds that may start to grow and to gently pull them out before they form large root systems.
Pros of No-till Farming
There are several pros when it comes to no-till farming over till farming. One of the main positives cited is very good erosion control, along with conservation of soil moisture and a buildup of organic material within the soil. No-till helps with erosion because the bulk of soil erosion in till farming comes from the tilling action itself, and because in no-till farming plant residue is left on the beds, the organic material builds up and helps with holding soil moisture and naturally promotes aeration and earthworm population increases (along with beneficial microbial life). Because in no-till the soil remains undisturbed, this also reduces the chances of accidentally bringing dormant weed seeds to the top of the soil (where they will then sprout), along with helping the soil to hold more carbon than it releases. No-till farming also has a hand in reducing loss of phosphorus in the soil. On larger farms, cutting out tillage also helps to cut out large amounts of fuel cost from the budget. In the long term, no-till helps provide larger yields during years without much rain while also helping farms save on water costs.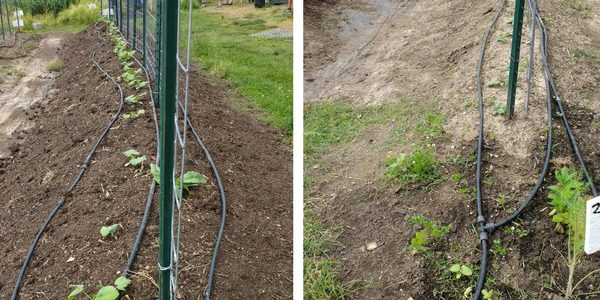 Cons of No-till Farming
Because building up soil structure is a slow process, there are certain benefits that can take up to 6 years for the effects to be seen at all. Another con to no-till is that there is no incorporation within the soil, meaning that compost added to the top of a bed stays on the top and the materials in it do not go far beyond that layer if root systems and/or microbial life do not transport them. In addition to the lack of incorporation, a con of having high organic matter content is that the organic matter ends up holding the soil together, which, if there is a poor earthworm count (or other microbial life), will not be broken up which can result in packing in of the soil and that could make it harder for plants to thrive in the soil. The increased ability for the beds to hold water is a bit of a double-edged sword as well, meaning that while holding more water is useful in terms of water costs and plant survival in dry years, in wet years the beds can end up over-saturated which then can result in slow warming in the soil if there is poor drainage. Poor drainage in no-till areas are typically caused by compaction of the soil. This can be solved by minimal use of "vertical tillage" to break up small areas of the soil that were previously compacted.
Project Conclusion
Two major parts to the no-till farming system is incorporating crop rotation and cover crop into the farming schedule, two things that are already being done at Gateway Greening. The main aspects that need to be increased are the amount of mulch and compost used. No-till farming increases soil structure, ability to hold water, and reduces soil erosion over time and is therefore a positive system for Gateway Greening to adopt.
Sources Cited
5 Steps For Successful No-Tilling. (n.d.). Retrieved April 21, 2017, from https://www.no-tillfarmer.com/blogs/1-covering-no-till/post/4898-steps-for-successful-no-tilling
Duiker, S. W., & Myers, J. C. (n.d.). Better Soils With the No-Till System. Retrieved February 20, 2017, from http://www.chesco.org/DocumentCenter/View/6537
Eartheasy. (n.d.). Retrieved February 20, 2017, from http://learn.eartheasy.com/2009/01/no-till-gardening/
No-till agriculture offers vast sustainability benefits. So why do many organic farmers reject it? (2016, June 02). Retrieved March 10, 2017, from https://www.geneticliteracyproject.org/2016/06/02/no-till-agriculture-offers-vast-sustainability-benefits-so-why-do-organic-farmers-reject-it/
No-Till Pros Outweigh Cons For Growers. (n.d.). Retrieved March 10, 2017, from https://www.no-tillfarmer.com/articles/no-till-pros-outweigh-cons-for-growers
Pros and Cons of No-Tillage Farming. (n.d.). Retrieved March 10, 2017, from http://greentumble.com/pros-and-cons-of-no-tillage-farming/
University of Nebraska-Lincoln | Web Developer Network. (n.d.). Advantages and Disadvantages. Retrieved February 20, 2017, from http://cropwatch.unl.edu/tillage/advdisadv
What is No-Till? (2013, April 26). Retrieved April 21, 2017, from http://thefarmerslife.com/what-is-no-till/
Discover more about the Dig It STL Program: