Top Ten Questions We Hear on the Gateway Greening Urban Farm We love it when people ask us questions, even if they're the same ones over and over again!  Today we're counting down the top 10 questions we hear from people discovering the Gateway Greening Urban Farm (GGUF for short) for the first time.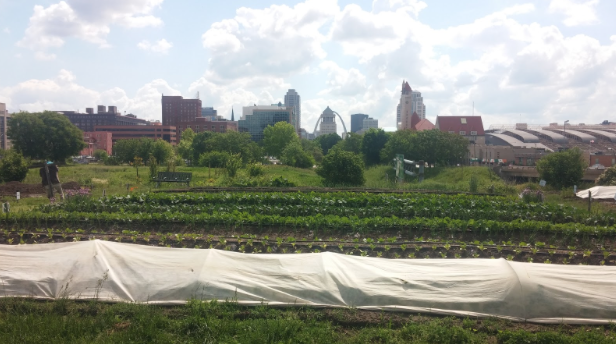 1. What is this place?!  I drive by every day and I've never noticed it.
It's the Gateway Greening Urban Farm! Or GGUF for short. Coming in at just under 2.5 acres, it's the largest urban farm in a downtown area in the United States. Yep, that's right: we're operating an honest-to-goodness farm in the heart of St. Louis. For the last ten years, Gateway Greening has been working closely with volunteers and St. Patrick Center clients to grow fresh, healthy produce that's used right here in our local food system.
---
2. Are you a community garden?
Nope! But you're on the right track.
Community gardens are spaces that made up of smaller raised beds or plots that are cared for by a single person or family. Each individual grower gets to decide what they raise, how much they raise, and how much work they put into it. More often than not, any food raised in these plots is eaten by the person growing it or shared out among friends and family.
Urban farms operate more like you would expect a traditional rural farm to, with all of the available space being used for intensive crop production for commercial purposes. At the Gateway Greening Urban Farm, we optimize our available growing space to produce food through seasonal crop rotations, vertical farming, and companion planting. The labor is done mainly by volunteers and individuals participating in Dig It STL, a teen employment program, and the City Seeds Therapeutic Job Training Program we offer to individuals overcoming homelessness and other personal challenges.
---
3. What do you grow?
Fresh, healthy produce! We'll try anything once, but we focus on growing heirloom varieties of fruits and vegetables known to do well in the St. Louis region. Using sustainable, organic growing practices, the farm produces an average of 15,000lbs of produce each year!
---
Did you know? We grow a lot of the produce that's found at your local garden center through our Perfect Picks program!
4. Can I come and pick produce whenever I like?
Unless you are specifically invited to do so, please DON'T pick produce from someone's farm or community garden – you never know who's depending on that food to get by!
The produce grown at GGUF is sold to various organizations in St. Louis in order to make healthy produce both accessible and affordable locally in communities it might not be otherwise. At the same time, these sales support our ongoing job training programs for local teens and individuals overcoming personal challenges such as homelessness and recidivism. When people pick our produce, it decreases our ability to feed and support St. Louis!
---
5. Where does the food go?
Several places! First and foremost, our farm is supported in part by our Community Supported Agriculture (CSA) program. This basically works as a subscription service for food, with members purchasing their 'share' in the spring, providing much needed funding when the farm needs it most. In return, we'll provide them with weekly boxes full of fresh produce throughout the growing season!
We also have a few wholesale and retail contracts with local organizations like Food Outreach, City Greens, and the St. Louis MetroMarket. By partnering with these organizations we're able to make our produce accessible to local communities at an affordable price!
Do we sometimes have extras? You bet! And we've got a plan for that too. Any produce left over after filling CSA boxes and selling to wholesale and retail partners is donated to the St. Patrick Center food pantry. They in turn distribute it directly to their clients or use it to cook on-site meals provided by SPC.
---
6. How can I get involved?
In many ways! We're always looking for individual and group volunteers to help keep up with seeding, weeding, and harvesting on the farm. Stop by our website to learn more about volunteer opportunities at GGUF.
We know not everyone is down for getting dirty, and that's okay! Beyond the day-to-day tasks, Gateway Greening is always looking for help to raise awareness about the great work happening out on the farm. Contact [email protected] to set up a tour for your employees, friends, or group!
Don't have time to volunteer or visit? You can still help! Each year our farm produces more fresh local food, hosts more school field trips, and provides job training to more clients overcoming homelessness and other personal challenges. Help us continue to grow GGUF's impact sustainably by making a donation today.
---
7. Can I walk around to check things out?
Absolutely! Whether we're on site or not, the Gateway Greening Farm is always open. Stop by during our work day (Mornings, Monday – Friday during the growing season) to check out what's happening. We're always happy to talk with visitors and answer questions.
Regardless of when you visit, please keep in mind that we are an active farming operation. Wear closed toe shoes and watch your step! Also, please be respectful of others. For many, GGUF is a place of rest and reflection.
Please do NOT bring pets onto the Gateway Greening Urban Farm. Since GGUF is actively producing food for human consumption, it is important that we keep our crops feces-free!
---
8. Do you do this in other cities?
We do not, but there are urban agriculture projects popping up in cities across the United States. You may be surprised at what a quick Google search will turn up!
Gateway Greening is firmly rooted in serving the St. Louis community. In addition to our downtown urban farm, we also support more than 220 active school, library, and community gardens throughout the city and county – and that number keeps growing! Visit the interactive garden map on our website to explore the garden scene in St. Louis!
---
9. How can I get this started in my city?
We're always happy to share tips and general insight into starting a community garden or urban agriculture project based on our personal experiences. But before we do, try a Google search! Many people are surprised to learn there are already several active projects in their community in need of another set of hands.
Still looking for more information? We highly recommend checking out Start A Community Food Garden, The Essential Handbook by LaManda Joy. It's a fantastic guide that we recommend to all of our new school and community gardens. Otherwise, shoot us an email at [email protected]. We're happy to help!
---
10. Who works at Gateway Greening & GGUF?
Gateway Greening has a full time staff of 13, supplemented by seasonal staff positions, AmeriCorps VISTAs, Interns and of course, our amazing volunteers! Visit our website to "Meet the Crew."