Each year, Seed St. Louis hosts two contests for the school and youth programs in our network to encourage students to get outside and explore their gardens.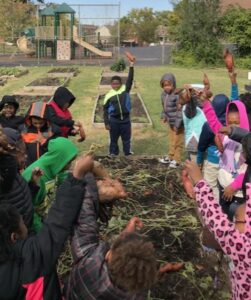 Seed St. Louis School Gardens are eligible to register in the Sweet Potato Challenge. Sweet potatoes are easy to maintain over the summer, improve soil health, fun to harvest, and have numerous classroom connections.
All participating gardens will receive 15 FREE sweet potato slips (enough for a 4′ x 12′ garden bed) and additional slips will be available for purchase.
Sweet Potato slips are picked up toward the end of May. The exact date is dependent on growing conditions and will be announced via email earlier in May.
All gardens will receive a participation sign. Five gardens will win awards for Heaviest Harvest, Heaviest Potato, Weirdest Tater, Longest Vine, and Best Use of the Harvest. The more you measure, the greater your chance of winning! All results are due by December 3rd. A submission form will be sent out before harvest time.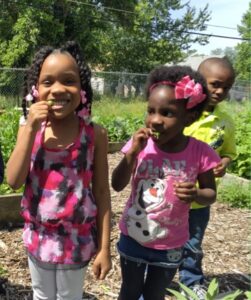 Join the First Peas to the Table Contest and compete with other gardens to grow the first pea of the year! Peas are one of the earliest vegetables you can plant in the school garden and should be ready to harvest by the end of the school year. Lessons associated with peas include plant life cycles, plant adaptations, trellis engineering, and measuring!
Participating Seed St. Louis school gardens will receive free pea seeds and either an award or participation sign for their garden.
How to compete in the First Peas to the Table contest:
1. Seed St. Louis Network School Garden Leaders Register using the link below. The deadline to register is February 12, 2023.
2. Pick up seed peas and information at the chosen time and location.
3. Plant your seeds. Take photos of the youth planting!
4. Tend peas.
5. Measure and document harvest.
6. Submit First Peas to the Table Results. Send any photos you wish to share to [email protected]
Award Categories
First Pea to the Table
Heaviest Harvest
Most Peas Harvested
Tallest Pea Plant
Most Creative Pea Trellising
If you have any questions about Seed St. Louis contests please contact 314.588.9600 ext. 114 or [email protected]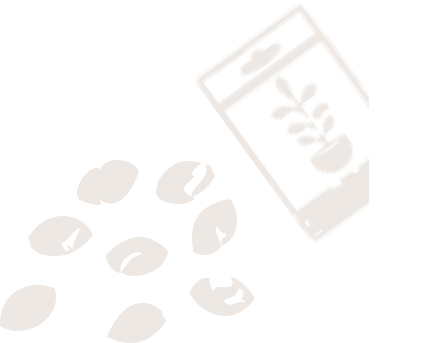 Want to Learn with Us?
Seed St. Louis hosts over 40 free virtual classes throughout the year. Our staff provides a wide variety of classes for all gardening enthusiasts.
Learn More
Seed St. Louis Planting Calendar
Need some guidance planning your garden? Download a free copy of our Seed St. Louis Planting Calendar to feel confident when you plant and harvest your bounty!
Learn More