AMEN|St. Louis, Dig It STL & the Gateway Greening Urban Farm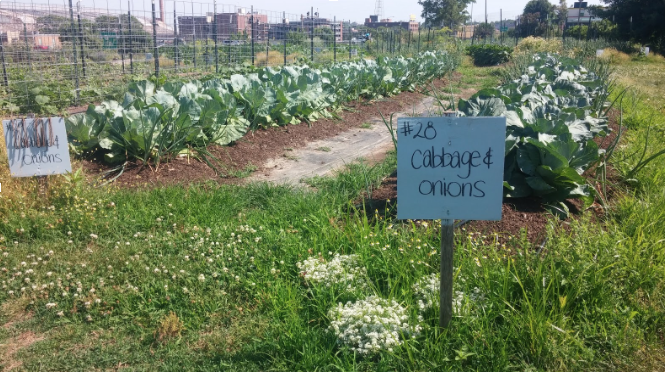 Last week was a busy week on the Gateway Greening Urban Farm! The summer session of the Therapeutic Job Training Program is in full swing, teens participating in our Dig It! summer employment program are busy weeding and harvesting between classes, multiple volunteer groups have left their mark on our newly weed-free beds and school field trips have been ramping up the energy (and laughs) all over the place. Earlier this week I escaped the office to take pictures on the GG Urban Farm (you can never have enough images of people and food!), and came across many of these groups in action.



Work Around the Farm
This time of year the Farm is bursting with more than people – crops are ripening, being harvested, and in some cases, being replaced. It's all part of our Succession Planting technique, where we take advantage of our crops' natural lifecycles to continuously plant, harvest, and replant throughout the growing season. It's one of the many ways we make the most of our available space and also  increase our yields in an environmentally healthy, sustainable way. This week found our food distribution manager, Jannel, repainting row signs so that everyone would know where each crop is! This week also saw tomato plants being staked, cucumbers and other viners being trellised, and of course, endless rounds of weeding and watering.
Sometimes Farm Team will take on special side projects, like Farm Manager Rachel did this week. During my visit, she was busily preparing colorful container pots to be planted with assorted herbs. These containers will be used in a Cultivating Young Cooks Event at the Missouri Botanical Garden in August, an event that celebrates kids and food.



Dig It STL
Our Farm Team staff aren't the only ones hard at work. The Dig It crew has been busy in spite of the heat, and they have the sun tans to prove it!
Dig IT STL is Gateway Greening's teen employment program, offering local teens an opportunity to spend their summer learning about agriculture, conservation, and gaining valuable job skills – all while getting paid.
I managed to catch up with the crew as they were wrapping up a morning spent weeding on the farm. Once the weeds were composted, the crew quickly washed up and settled in at the onsite outdoor classroom for a lesson on soil science, complete with experiment. After spending a morning weeding and working in the sun, it probably felt great to sit down in the shade for awhile!
AMEN|St. Louis
Picture if you will: a blazing hot summer day full of sunshine, heat advisories, and stubborn weeds. For many of us, that's a recipe for a serious case of the 'grumps' by lunchtime – but not this group! These volunteers are from Charleston, IL and came to spend a morning on the GG Urban Farm as part of a week-long mission trip with AMEN|St. Louis, a ministry of Oak Hill Presbyterian Church located in the Tower Grove South Neighborhood. When I met them they were cheerfully joking back and forth while freeing our Herb Berm from a serious invasion of bermudagrass.
I couldn't resist stopping to chat with such a fun group, and learned all about their trip. In addition to volunteering at our farm, they've also visited Lydia's House, Caroline MIssion, House of Goods and several other local nonprofits. When asked what they found most striking or memorable about their trip, one woman had her answer ready: "I think I'm most impressed with what St. Louis is doing to improve living here."
Four months in:
It's four months into my year with Gateway Greening, and I can honestly say that a trip to the Gateway Greening Urban Farm is always a new and exciting experience: you never know what you'll see or who you'll meet. In spite of the variety, there's a constant feeling of welcome and a strong sense of community here, making it a truly special place. With any luck, I'll see you there the next time I escape the office!
– Erin Wood, Communications and Fundraising AmeriCorps VISTA