Fostering Student Ownership in the School Garden How do you foster a sense of student ownership and investment in their school garden? By encouraging them to be a part of the decision making process.
Last week, Ms. Davie's and Ms. Hayes's 4th grade classes at Gateway Elementary decided what to plant in their school garden based on planting dates, germination rates, and factored in the days till harvest. But first, they had to learn how to read seed packets and planting calendars so that they could make informed decisions.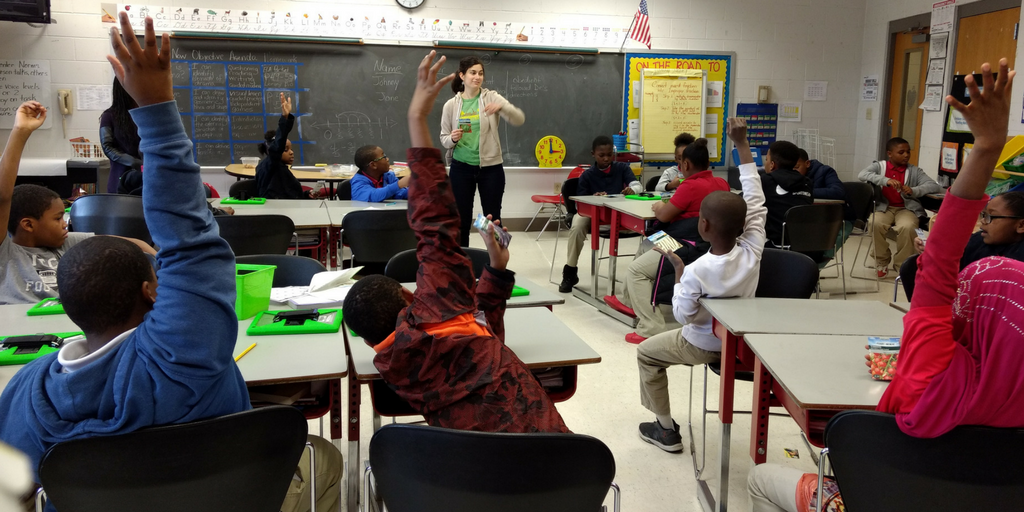 Learning to Interpret Seed Packets
At the beginning of class Gateway Greening Educator Lucy Herleth passed out seed packets of different fruit and vegetable types to each student. Some students groaned when they ended up with packets of green beans, while one young lady cheered: "I got tomatoes!"
For many of the fourth graders, this was their first opportunity to read a seed packet up close, so Miss Lucy gave a quick lesson. Building on previous class discussions, students connected the general plant life cycles they had learned about before to the specific information that was provided by the seed packet.
Seed packets provide a wealth of important information: when to plant the seeds, the number of days it required to germinate (appear above ground), the number of days the plant must grow before it is ready to be harvested, and most importantly, the amount of sun and water the plant would need to grow.
After the lesson, Lucy tested the student's knowledge with a fun pop quiz. Each class was asked to line up in a straight line using their seed packets. Student's whose crops would be ready for harvest quickly at the front of the line, while students with crops that had longer grow periods were towards the back – and they weren't allowed to talk while doing it. After two minutes of chaos, the kids were lined up in order and ready to head out to the greenhouse.
Student Crop Selection
Gateway Elementary has a sizable greenhouse built inside the school – the perfect place to start seed crops at the end of winter. Before anything could be planted though, some decisions needed to be made.
Each student was given a copy of Gateway Greening's planting calendar. Regionally specific, this calendar shows the seeding, transplant, and harvest dates for many of the crops local community and backyard gardeners commonly grow in St. Louis. For this part of the lesson, each student was asked to find up to three plants that they personally would like to grow in the Gateway Elementary school garden this year.
Next, Lucy asked each student to tape photos of their plants to the wall under the month that the crop should be planted in. With a little help from the planting calendar, students quickly created a colorful display of crops on the wall – and clearly told their teachers which crops they want to grow in the school garden this year.
Managing Expectations – the Fun Way
By asking the fourth graders to share their plant choices using pictures taped to the wall, Lucy created a highly visual planting calendar specific to the students' garden. Using their earlier lesson on reading seed packets, Miss Lucy and the kids were able to talk about which plants they would be able to grow and harvest before the students left for summer break.
Many regional crops are harvested during June and July – a time when students aren't in class. However, there are many crops that St. Louis students can plant in early spring and harvest before summer break begins late in May. Peas, radishes, carrots, and lettuce, to name a few. Limited growing space and time will mean that not every crop the students asked for will make it into the Gateway Elementary school garden this year, but the majority of them will.
When the fourth graders visit the garden this spring, they will get to watch "their" plants grow and try new produce that they chose for themselves.
It may be February in St. Louis, but the fourth grade students of Ms. Davie and Ms. Hayes classes at Gateway Elementary are already getting a head start on their school garden.
Looking for more ways to incorporate the school garden into your lesson plan? Stop by:
Gateway Greening's Workshops for Educators

 

page to explore monthly workshops that address the challenges and opportunities represented by teaching in school gardens
The Gateway Greening Educators Facebook group to connect with other teachers throughout St. Louis with similar interests in school gardens
Check out our In the School Garden

 

Youtube playlist for short, actionable how-to videos that are seasonally relevant.