Greens for the Summer Heat Greens are the most nutritious vegetables there are and there are plenty of greens to choose from for the cool months of spring, fall, and even winter including: lettuce, spinach, arugula, mache, turnip greens, mustard, beet greens, kale, collards, chard, radish greens, cabbage, bok choi, tatsoi, sorrel, and a multitude of other less common greens. The trouble is that fourth season. There are only three commonly grown greens that can tolerate St. Louis' summer, and even they don't love our heat, they just endure it. Those usual suspects are kale, collards, and chard. As much as we love those three crops, what if you don't, or if you want crops that have fewer pests during the summer months, or want to grow things that thrive in heat, or just want to add more diversity to your diet? That was the question we sought to answer last summer in the Demonstration Garden, what summer greens will thrive in a St. Louis garden? Well, the results from our trial are in and below we are sharing with you which ones we tried that didn't work and which ones we think are worth a try in your garden.
Greens that were less than impressive:
Strawberry goosefoot

Magenta spreen lambsquarters

Orach

Moringa

Amaranth (aka calaloo)

Korean silkflower
All of these greens germinated and grew but were much less productive than our top choices and/or stopped producing much earlier in the year.
Strawberry goosefoot, magenta spreen lambsquarters, and several types of orach that we tried all grew quickly, were tasty, and were without pest or disease issues but they all went to seed by mid summer. Amaranth was much more productive than the goosefoot, lambsquarters, and orach but without heavy consistent harvesting it went to seed around the same time.
Moringa and korean silkflower were different than the others in this category. Both produced all season but were simply not as productive as our top picks but were both interesting for other reasons. Moringa is actually a tropical tree that grows so fast we planted seeds of it in May and by the end of the season it was over 6' tall!  The leaves are very nutritious and good flavored it just doesn't produce very many of them in our short season conditions. Korean silkflower is a relative of okra and like okra has beautiful flowers on it. Unfortunately, it is also like okra in that it has irritating hairs on the stem. The greens are tasty and nutritious but just not as productive as the most productive greens we grew.  
Greens worth another try:
Jewels of Opar

New Zealand Spinach
Both jewels of opar and new zealand spinach had issues. New Zealand spinach was slow to germinate and slow to grow, however, the leaves were delicious and had a nice succulent texture so although the yields were disappointing the taste was really good so we want to try it again.
Most of our jewels of opar were accidentally weeded out of the bed. The ones that survived had similar problems as our first category in that they were done producing by mid-summer. They made it into this category because it was beautiful, the leaves were very good, and it's actually a species native to the U.S. If you are looking for an all summer producer of greens however, jewels of opar aren't for you.
Greens we recommend:
Sweet potato greens

Celosia

Molokhia

Malabar spinach

Purslane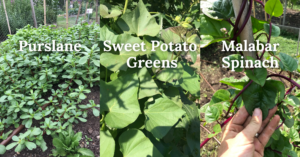 Purslane made it onto this list because it was such a fast producer. Like many on the above lists it stopped producing about mid-summer but went from seed to ready to harvest very quickly so although it didn't produce for long it could be succession planted to extend the harvest all summer pretty easily. It also has some impressive culinary and nutritional characteristics that helped bump it onto our recommended list. Purlsane is actually a succulent so has a nice succulent texture with a bit of salty citrusy tang to it which is unique and refreshing in summer. It is also notable because the leaves actually have omage-3's in them, making it pretty much the only vegetable source of omega-3's there is, and you can grow it in your garden. Lastly, purlsane is an unbelievably tough plant. It can actually switch between multiple types of photosynthesis to keep it growing even when it gets very hot or very dry, when other plants stop growing.
Sweet potato greens are one that might surprise you. If you are like many Americans you probably didn't even know the leaves of sweet potatoes are edible. In fact, in some regions of the world the leaves are the primary reason sweet potatoes are grown in the garden. If you have ever grown sweet potatoes you already know they are low maintenance, produce prolific amounts of leaves, and produce all the way up until frost without stopping. So if you are growing sweet potatoes anyway this is a great way to add some leafy green diversity to your diet. Assuming your goal is to get nice big sweet potatoes though just be aware that if you cut significant amounts of leaves the root yield will suffer.
Malabar spinach is a great summer green that has been gaining popularity in the St. Louis gardening community so you might already be familiar with it. It's is a vining crop with purple vines, dark green leaves, and clusters of black berries. It is such a resilient plant in our summer climate and so pretty you are actually pretty likely to find it for sale as an annual ornamental. It is very productive and as long as you provide it with a pole or a trellis to keep it up off the ground it is very easy to harvest. Depending on your tastes the only downside of malabar spinach is that it has a bit of a slimy texture, similar to okra.  So if you don't like okra, you probably won't like malabar spinach.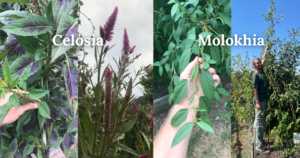 Celosia is a summer green that we have grown for several years as a part of our regional bed for Sub-Saharan Africa. While this is the same celosia that is commonly grown as a summer annual flower in St. Louis, it was originally domesticated in West Africa as a cooking green. It is still the most popular green in Nigeria and has been a great reliable grower here. It produces beautiful green and red greens all season long until the first frost. It also produces the characteristic pink straw textured flowers that celosia is known for that pollinators love.  These flowers are also very easy to save seed from. The flowers will elongate over the season turning from pink to white. The white part of the flower contains mature seeds. All you need to do to harvest the seeds is cut off the flowers when you are cutting down the plants before the frost and allow them to dry in a bucket. After drying for a while, shake them a bit and rub the sides of the flowers and the seeds will fall right out. These seeds then can be stored and replanted next year. The yield of celosia was also impressive. By the end of the season the celoisa will reach about 8' tall and if given space can get quite bushy. One celosia self seeded in an area where is had plenty of space to sprawl and that one plant was 8' tall and almost equally as wide!
Molokhia was the real shocker this year. It started out running, growing very quickly as soon as it germinated. By July it was about 4' tall when the celosia, amaranth, korean silkflower and the other greens were all about 2' tall. So at the time we thought this was going to blow everything else out of the water in terms of production. Then the Japanese beetles came. They went after molokhia unlike they have gone after any other plant in the vegetable garden. They shredded the molokhia. Everything else continued to grow and became taller than the molokhia and it was considered out of the running for recommendation. It made it back on the list though because when the Japanese beetles went away in Mid-August it started growing again, incredibly fast. By early October the tallest molokhia was over 11' tall dwarfing all the other plants in the bed! The greens are good, very high in minerals, and prolific. So it made it back on the list but if you do plan on growing it, know that they will be heavily eaten by Japanese beetles in mid-summer, so there will be a time when there aren't any greens to harvest from it.