Mindfulness in the School Garden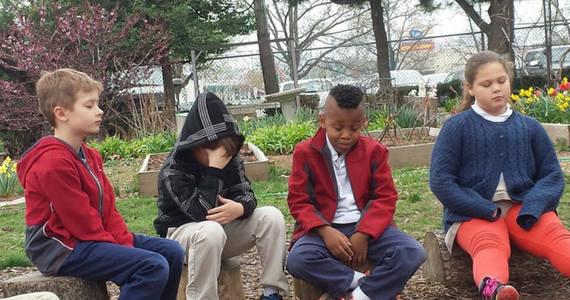 This spring, youth educators Meg Holmes and Lucy Herleth have been working with Brown School practicum student Eli Horowitz to develop a mindfulness program to use in conjunction with Gateway Greening's Seed to STEM curriculum. This project was inspired by City Seeds, the therapeutic horticulture job training program that has been offered to St. Patrick center clients on the Gateway Greening Urban Farm in various forms over the last 10 years. We know from both health studies and our own personal experiences with City Seeds that being outside and in green spaces has a positive impact on well-being. That is improved by being intentional about how one is working in that green space, coupling it with reflection, meditation, and journaling. As St. Louis Public Schools placed a ban on out of school suspensions for children 2nd grade and under, it seemed like an opportune time to add an additional component to our school garden arsenal. 
What is Mindfulness?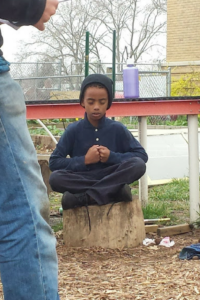 Mindfulness is the practice focusing one's attention but in a relaxed and nonjudgmental way. Often it starts with focusing on physical sensations like the feeling of breathing. 
In the near term, this practice helps students to slow down and calm down, which can help students with transitions between classes and activities. In the long term, it can help students to develop a better awareness of their body, thoughts, and emotions, which, in turn, helps students deal with stress and improve impulse control. 
In addition to this, it is a transferrable skill. Focusing attention is an essential skill for our little scientists, whether it is observing pollinators to designing experiments. Being able to slow down and really pay attention is what science is all about.
Instigating the Mindfulness Program
Meg, Lucy, and Eli started the mindfulness program by working with 1st-5th graders at Mallinckrodt Academy and Clay Elementary. For the past month, they have been starting their Seed to STEM classes with 5 minute focused breathing exercises in which students are guided to focus on how their breathing feels. As the exercises finish, Eli asks each student and teacher to share feedback on how they feel with a quick questionnaire. This has allowed Eli to track the impact of regularly including mindfulness in class time. Students and teachers alike have indicated that they like to do the mindfulness exercises and feel more calm and focused when they've finished.
Written by Kathleen Carson, Gateway Greening Education Manager.
Looking for more ways to incorporate the school garden into your lesson plan? Stop by:
Gateway Greening's 

Workshops for Educators

 

page to explore monthly workshops that address the challenges and opportunities represented by teaching in school gardens
The Gateway Greening Educators Facebook group to connect with other teachers throughout St. Louis with similar interests in school gardens
Check out our In the School Garden

 

Youtube playlist for short, actionable how-to videos that are seasonally relevant.