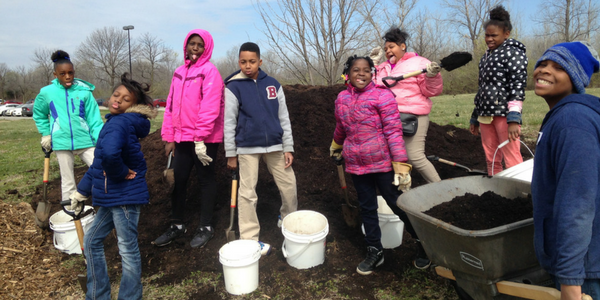 Creating Curriculum for St. Louis Educators
Gateway Greening youth educators have been working in local schools for the last five years, coordinating with teachers to get children outside and working in the garden. Through their work with local teachers, the Gateway Greening education team quickly realized that a curriculum that paired current education standards and outdoor lessons was needed.
Building on the five years of working with K-5 teachers and strengthening the life science focus of the program, the Gateway Greening education team launched its revamped curriculum program, Seed to STEM, in the Summer of 2016.
What is Seed to STEM?
Gateway Greening youth educators are working with the Next Generation Science Standards (NGSS) and Saint Louis Public Schools science curriculum to ensure that lessons developed in the garden are not merely "extra activities." Instead, the Seed to STEM curriculum provides classroom teachers an opportunity to meet their curricular goals while also taking their students outside and engaging in hands-on learning activities.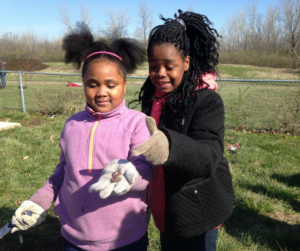 School gardens are valuable outdoor classrooms and living laboratories. Children do not yet have the life experiences that allow them to incorporate new information that they hear or read into their understanding of the world the way that adults do. This is why it is critically important that students get their hands dirty. As educators, we want students to touch, feel, manipulate, and observe their surroundings with their own senses so that when the students encounter more abstract information, they have experience to "hang" it on. School gardens are cost-effective spaces in which to offer that experience.
What does that experience look like for St. Louis students? When lessons are taken outside to the garden, students are asked to talk about habitats, hypothesize what part of the soil they would most likely find worms in based on what they know about habitats, and test their hypothesis by finding the worms. Another lesson may find students tipping over the logs in their garden's stump circle to find what is living underneath.
Teachers often ask their students to measure the growth of the crops, comparing the growth of plants in the sun to plants growing in the shade, and connecting those measurements back to a photosynthesis lesson in the classroom. There's a lot to be said for learning about food webs and, if we are really lucky, watching a hawk nab a squirrel in the middle of a garden lesson. Or, somewhat less dramatically, watch the parasitoid wap larva kill  a caterpillar.
An "All-Inclusive" Curriculum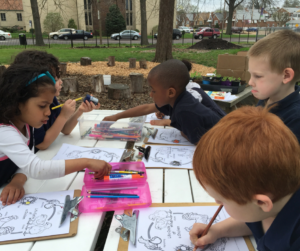 In addition to the rich environment that a school garden can offer for the life sciences, it is also a place to draw in any of the other subjects or skills taught in St. Louis schools. Math and language arts are a particular favorite with teachers and are regularly incorporated into outdoor lessons in the school garden.
One of the most important lessons explored in the school garden is social-emotional skills; using the school garden as a space to practice the skill of "[p]aying attention in a particular way: on purpose, in the present moment, and nonjudgmentally: (Kabat-Zinn, 1994, p.4). This spring Gateway Greening youth educators have been working with Eli Horowitz, a Washington University Brown School student, to work on mindfulness in the garden.
During a mindfulness lesson, students may be asked to focus on the feeling of their breath entering and leaving their body, or the feeling of the breeze on their skin. This practice helps children (and adults) develop better self-regulation, relieve anxiety, and improve concentration. These mindfulness practices are also a transferable skill that can be useful in making scientific observations.
Gateway Greening youth educators are currently working with classroom teachers at four Saint Louis Public Schools to align lessons with both the growing season calendar and the academic calendar, building a Seed to STEM curriculum that any teacher in the St. Louis region will be able to access and adapt to their school garden.
Written by Kathleen Carson, Gateway Greening Education Manager.
Reference: Kabat-Zinn, J. (1994). Wherever you go, there you are: mindfulness
meditation in everyday life. New York: Hyperion.
Looking for more ways to incorporate the school garden into your lesson plan? Stop by:
Gateway Greening's

Workshops for Educators

 

page to explore monthly workshops that address the challenges and opportunities represented by teaching in school gardens
The Gateway Greening Educators Facebook group to connect with other teachers throughout St. Louis with similar interests in school gardens
Check out our In the School Garden

 

Youtube playlist for short, actionable how-to videos that are seasonally relevant.