Teacher Spotlight on LaTosha Hayes of Gateway Elementary Interview with LaTosha Hayes, 4th grade teacher at Gateway Elementary in St. Louis, MO, about how she personally became involved with the school's garden.
How long have you been gardening? 

This will be my first full year. A few years ago, another group came in and started working with us in the greenhouse but that wasn't a full year. 
What sparked your interest?
Learning about the value of eating healthy and the harm it causes when we don't.  I've been a teacher for 11 years and have come to realize that we're targeting curriculum backward. "Data Driven" is a mantra that's heard in many districts. Unfortunately not too many schools or districts are focused on many factors that impact education such as nutrition.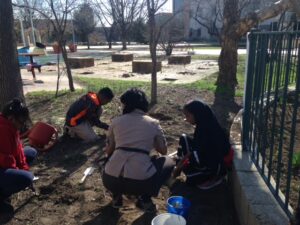 We had a dental clinic visit the school one time and there were kids with multiple cavities, it was when I learned what a root canal was, and obviously it all came back to what the kids are eating and their oral hygiene. We know a lot of the things are the shelves are not good for kids and so they don't have the nutrients that they need to come to school ready to learn.  Some kids are inattentive, hyperactive, unmotivated, tired, and/or hungry.  Even though we know the importance of eating healthy foods and how it can impact student's education, teachers are still evaluated on classroom management and whether students achieve academic success.  We need to focus on what's literally going into them. We can help kids succeed by educating them about food and preparation. Taking students outside to garden lets them get natural sunlight, burn calories, explore, care for living things, and what everyone loves to do – EAT.  I think all students prefer edible assignments.
We need nutrition education as much as PE and counselors and it needs to start in Pre-K. Teaching kids how to grow and cook their food and that will bring families back to the kitchen table.  It is prevention rather than intervention and treatment for diet related illnesses.
What is the most worthwhile part of gardening with your class?
Empowering students through nutrition and developing healthy habits that can positively impact generations to come, having them do something other than play video games and watching TV at home, to have an interest in growing their own food. I look forward to having them investigate and come up with questions. I think that they will start making changes in their lives and share it with others and it will have a domino effect on the community. I want students to talk to each other but I want them to talk about healthy things, like food. 
The other thing that is good about this process is that students are learning that I am still a student as well. They are observing that even adults are learning and we all have road blocks and anxiety and need others to help us learn. 
I am looking forward to learning more about the science of plants (composting, cross pollination, etc.) and getting out of the classroom, getting students out of their seats. That is where education really starts, from birth, genuine learning occurs in the home, neighborhood, and community.
Kids learning how to garden will yield benefits in the classroom because students will have better nutrition and be better rested.

What are you looking forward to planting with your class?
We are going to grow peas but I want to grow a bit of everything, maybe blueberries. I definitely want to grow green leafy vegetables, spinach, collards, kale, tomatoes, sweet potatoes, melons.  I want a colorful garden so students will be inspired to have a colorful plate and learn which fruit or vegetable is providing what nutrient. 
What do teachers need most in order to use a school garden successfully?

A curriculum. All of the teachers I've talked to have an interest but don't have the know-how and need support. Curriculum and support from GGI. It would be great if the district adopted a garden/nutrition curriculum for elementary school so children would develop healthy habits.
Interview with LaTosha Hayes conducted by Kathleen Carson, Gateway Greening Education Manager, in February 2017.