Urban Agriculture Challenges and Solutions: Part 1 13th Street Garden
This is the first in a series of articles about the challenges gardeners and farmers have faced in an urban area, as well as the solutions they have come up with in the face of these issues.
13th Street Garden was established eight years ago and can be found in the Old North neighborhood of St. Louis. It is unique in that it is a resource garden, one that lends tools and knowledge to other gardens. It is also special because of its longevity. I met with garden leaders Jason and Jessica to talk about the unique issues they face as garden leaders in St. Louis.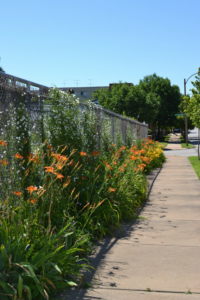 The garden has historically been supported by the Old North St. Louis Restoration Group, but it is managed by longtime, dedicated neighborhood volunteers. They hold a weekly farmers' market on site where they sell extra produce that is collectively grown in the center rows. The money from the market goes back into the garden to keep it running with seeds, plants, tools, and other materials. When asked what their biggest challenge is, both agreed lack of time and volunteers keeps them from reaching all of their goals.
"In an effort to keep weeds down, we decided to try having people sign up to weed just a single row each week, which is much more manageable than trying to tackle everything at once," Jason said when explaining the solutions they've found to increasing involvement with more neighbors.
They also do outreach, such as going door to door in their neighborhood and speaking to market customers about how they can join the garden. Jessica says their market especially creates a sense of community, bringing in people from across the area who may not be members of the garden.
Jessica holds this sense of community very dearly.
"I moved here from Chicago where I lived in a mid-rise building and didn't know anyone. Here, I know many of my neighbors. We have potlucks for almost every holiday and people come to our farmers' market just to hang out and talk."
They both agreed that Old North is a tight knit neighborhood, but that the garden makes it even closer.
"That's the magic of this neighborhood. People know each other and they care about each other," said Jason.
However, they are concerned about gardening in an urban environment.
"Lead exposure is a concern, even though plants don't absorb much into their roots," said Jason.
This concerns many urban farmers and gardeners. Lead is often left behind in the soil from demolished buildings.
Many gardens, including the 13th St. Garden, use raised beds and rows with fresh soil and compost to avoid lead exposure. Washing one's hands after gardening and harvested vegetables before eating them also helps cut down on the risk of exposure. They are also experimenting with low till practices and mulching to reduce direct contact with the soil and skin.

They've also faced some theft.
"We've had a couple incidences of plants being pulled out of the ground and taken. Whole kale plants just disappearing. The majority of our garden-grown seedlings disappeared at the beginning of the season."
And while they feel disappointed when theft happens, they remind themselves that it only happens occasionally. Neighbors and other urban farmers reached out to donate money and seedlings to replace those lost, getting the garden back on schedule for planting.
"Everyone is really supportive. Even if they're not part of the garden," said Jason.
Looking forward, both Jessica and Jason are primarily concerned with how best to increase fresh food access in their neighborhood. They want to be a resource for their community, whether that means sharing knowledge or assisting people in setting up a backyard garden.
"If a backyard garden is going to work best for them, then we will try to support them however we can," said Jason.
In summary
To address lack of time and volunteers, 13th St. Garden does outreach door-to-door and at their on-site farmers' markets. They also have interested people take responsibility for smaller tasks such as weeding a row, instead of expecting everyone to tackle the whole garden.
To address the risk of lead exposure, they use raised beds and rows with fresh soil and compost to prevent contamination. They also remind volunteers and members to wash hands and produce after coming into contact with soil. They are also trying low till practices.
When it comes to theft, they remind themselves that it is an infrequent occurrence that does not reflect the attitudes of the majority of the community.
To increase food access in the community, they focus on providing the best resources for each individual, in addition to increasing production and growing their farmers' market.
-Written by Mallory Brown, Communications & Fundraising AmeriCorps VISTA at Gateway Greening
To read about other community gardens, check out the links below:
https://gatewaygreening.org/fresh-starts-community-garden/
https://gatewaygreening.org/growing-community-central-reform-congregation-community-garden-beyond/